After some testing with our secret testers who are among some of the fastest drivers in Forza we have determined the 4 sportscars we will offer for the Subway FWC Invitational in July.
We wanted to find cars that could be equal in a stock P.I. form without the use of Forza downforce parts. What this does is allows the cars to include adjustable brakes and minimal parts upgrades.  It also prevents many of the tuning tricks used with downforce and tire swaps.  So what you have is basically a stock car with some minor upgrades.  So while you can't make the car a lot faster, you can make it handle and stop better.  The idea here is to keep the tuning tricks to a minimum and the driving at a maximum.
We could have made the championship with a single boring spec car as is the common practice for fear of inequality, but it is always more fun and interesting to have different makes when possible.  It just so happens that the range we picked in S-Class has the perfect 4 car group representing the best of the breed on both sides of the Atlantic.  And while each car is very different from the others, and has a totally different opinion on how to get around a race track, they are all so close that it will be the driver that brings out the best performance in each car and not so much the tune.
Our first sportscar is from Ferrari and represents the stuff automotive dreams are made of.  The S713 2009 Ferrari 458 Italia with its hand-built small block flat-plane DOHC mid-engine V8, pumping out 562hp and 398lb-ft of torque, is simply infraction !!! on wheels.  But there is a price to be paid to look like this, a very big price that will set you back about $200,000.00.  That's about a $5,000.00 per month car payment.
The 458 is more than just good looks though, it's light, aerodynamic, has a zingy high revving F1 style motor, and is a true scalpel on the track.  The only thing the 458 lacks is a driver good enough to drive her to the limit.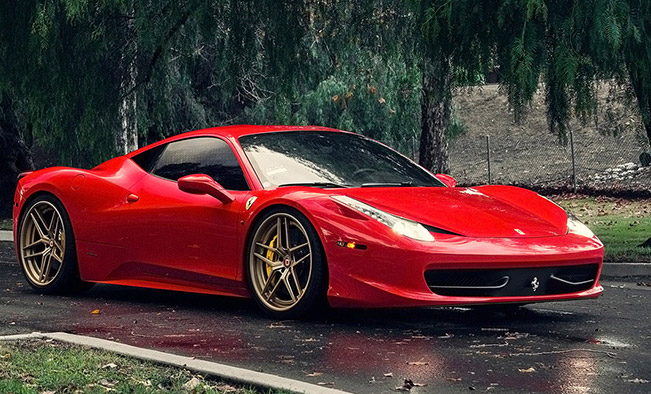 Our second sports car is nearly just as desirable but with a much deeper racing pedigree that goes back almost 50 years.  It has a winning record that is second to none and a car design that is iconic.  The S718 Porsche 911 GT3 RS 4.0 is in many ways the champion of all sports cars because it and its predecessors have the record to prove it.  With multiple championships at Daytona, LeMans, Nurburgring, and Sebring just to name a few, the little 911 has done it all.  And the RS 4.0 is a chip off the old block. In fact it has what would be considered a big block for 6 cylinders making it the most powerful naturally aspirated production 6cyl in the world.  The big 4.0L flat six pumps out 500hp and 339lb-ft of torque in a car that weighs just under 3,000lbs.
The 911 RS due to its light weight and engine configuration feels like it has more torque than it really does.  With a rock solid feel of total refinement, the 911 RS is always asking the driver, "is that all you got?"  With perfect stability and braking, and great corner entry and exit, it's no wonder the 911 has made so many others finish second.  But again with a very limited production run, there is a very high price tag to pay for Germany's best. Try $131,450.00!
I know, right about now you might be thinking what the hell, might as well pack it in on the American side, we ain't got nothin like that!  And while this is somewhat true, in that we don't have a lot of hand-built cars where money is no object, we do have our own racing heritage and machinery, while not always as sophisticated or gorgeous, they can and do get the job done in a uniquely American way.  
The only American sports car that has continually and successfully competed on the race tracks of Europe and the United States for nearly 65 years is the Chevrolet Corvette. With humble beginnings much like the country that created it, the Corvette has had racing success in all 7 generations of its existence. It has repeatedly dominated its class and ruined many BoP's over the years. Were it not for its success in the early 1960's Carol Shelby would have never felt the need to create the legendary Shelby Cobra.  Which he called his, "Corvette Killer." 
The S719 2015 Chevrolet Corvette ZO6 is the ultimate expression of its lineage. The ZO6 is like every Vette has always been, a mass produced performance sports car masquerading as a hand built supercar.  But don't be fooled, this latest generation C7 is a technological showcase of just how good the Chevrolet cross-plane small block V8 can be.  At 6.2L the all-aluminum LT4 small block V8 isn't all that small, roughly about the same displacement as a 383cid, but with a supercharger.  650hp with 650lb-ft of torque makes it the most powerful production Chevy engine GM has ever made. And this engine has roots that can be directly traced all the way back to the original Chevy small block 265/283 of 1955.  But it hardly stops there. The ZO6 is littered with high-tech composite materials like Aerogel from NASA, carbon fiber, titanium valves, and hydroformed aluminum.  It has all the gizmos of TCS, ABS, and STM too.  And for $79,450.00 there is no better bang for the buck in the world of high-performance cars, period.
On the track the ZO6 practically drives itself.  It seems to want to compensate for every tiny driving  error a pilot can make.  It seeks to annihilate a race track in comfort and style, with an almost disconnected feel that never really disconnects.  The ZO6 is reassuring to the point that you start to wonder who is in control, you, or the Corvette?  With enormous torque to grunt your way out of slow corners and perfect brakes that can handle anything you need, it has a controlled balanced feel that rarely gets upset no matter how mad you get at her.
And this brings us to the last but in no way the least of our 4 sportscars. The S707 2013 (Dodge) SRT Viper GTS.  The Viper like most MOPAR's is a monster.  It has the largest displacement production engine of any car in the world at 8.4L!  The cross-plane 512cid V10 is actually a truck motor. With 640hp and 600lb-ft of torque, the Viper could care less what gear you are in.  The power comes in immediately at the lowest rpm making it a very easy car to drive fast without feeling like you are driving fast.  This speed deception has fooled many a competitor allowing the Viper to win nearly every championship it has ever entered including three 24hr of Le Mans victories.  So overly powerful is the Viper engine that it must be detuned to be legal in its various classes.  The Viper holds more outright track lap records than any other production car in the world.  At $99,390.00 even the Viper is a steal compared to the Ferrari or Porsche.
On the track, the Viper is strangely composed and unimpressed with anything you do.  It yawns as you pin the throttle out of corners or stand on the brakes at triple digit speeds.  You get a strong impression or at least hint that the Viper is more race car than street car, and it shows in the way it bullies the entire track and every car that races against it.  It is the spiritual descendant of the Shelby Cobra.  Take a big engine and place it in a small car, and start collecting championships.
So there you have it, 4 great cars, and all you have to do is decide which one works best for you.  Which car will the drivers decide is best in class, and which car will actually win the coveted FWC in July?  *Get you 20 rated races to become eligible to qualy by July. 
We will reveal which tracks we are going to use soon so that everyone will have plenty of time to practice in the months to come.  One (the shorter one) will be for qualifying and the other for the 50lap race.  
Remember, no Forza aero parts, and then build the cars any way you like as long as they remain at the stock P.I.
| | |
| --- | --- |
| 2009 Ferrari 458 Italia | S713 |
| 2012 Porsche 911 RS 4.0 | S718 |
| 2015 Corvette ZO6 | S719 |
| 2013 SRT Viper | S707 |
_________________

"Piggy" aka "The Pig"

GTDon2

Gold Member








Posts

: 12000



Local

: Minnesota, USA



Registration date

: 2007-04-04


Forza Profile


XBL Gamertag

:

GTDon2


IFCA Car #: 4


Infractions

:

0 out of 3,000,000,000





Similar topics
---
Permissions in this forum:
You
cannot
reply to topics in this forum