Over the years many people have asked, "Who's this GTDon guy?" Or, "Who does he think he is?"  Or, "He's no elite driver, what makes his opinion worth anything, is he with Turn 10?"  
These are legitimate questions and ones I have rarely bothered to address.  True, I am not a super uber fast guy, and no, I don't work for Turn 10.  I'm not an insider at Microsoft either.  I'm just an outsider and original fan going all the way back to FM1. My main claim to fame is co-authoring the Forza 3 Official Guide by Prima Games and Microsoft. 
As one of the first to do organized league racing with the advent of the IFCA and as a former member of VVV I gained a reputation for it. Back then I did have some contact with Turn 10 and gave them many of the ideas for how to run leagues which they later implemented in FM2.  But after a blow out with the infamous Che Chow, I was no longer a favorite resource of Turn 10's.  Nevertheless, Prima Games contacted me as they wanted an experienced Forza racing organizer and expert driver to help them create the next FM3 Official Guide.  
The idea was simple, Prima Games wanted to create a guide that didn't just publish stats and features as was the common thing to do, they wanted an innovative guide that could teach you how to be a better racer.  Something that you would repeatedly reference and go back to time and again, rather than read once and throw away.  They proposed this new idea to Turn 10 and they approved it.  After 4 months of writing, we were ready for final approval.  We had created what Prima Games said was one of their most impressive guides to date regardless of the game type.  We had volumes of expert advice from the best Forza drivers on the planet on how to drive certain cars, tracks, builds, and tunes.  It was exceedingly useful information, even secret knowledge, used to learn how to go faster, and the publisher couldn't be more pleased!  We had hit the mark, the bullseye on the project, and felt that for the first time a gaming guide for racing was actually going to help people get faster.
Imagine our shock when it came back to us that Turn 10 totally hated everything we did and wanted 90% of the content deleted or edited out.  Prima Games was stunned and couldn't figure out what the problem was because the guide turned out exactly as they promised it would to Turn 10 in the first place. 
As it was explained to me with an enormous apology from the CEO of Prima Games, Turn 10 did not want people to know how to play Forza better or learn how to drive faster.  Turn 10's opinion was that this was too exclusionary.  That to create a guide that imparted special knowledge for those few who might seek to go faster cut against their idea that Forza needs to be more inclusive.  They didn't want some people to have an advantage by knowing the tips and tricks.  They wanted everyone to be the same, and, well, ignorant of any and all techniques to go faster.  
The stark impression was that Forza was not to be pigeonholed as strictly a racing game.  To Turn 10, whatever Forza was and is, it is not limited to being just a racing game.  Therefore no efforts were to be made to narrow its scope or vision in one way or another.  Forza would not be allowed to be defined as a racing game only.  Instead, the impression was that Forza was going to remain a kind of status quo car game that would never be allowed to advance or evolve into something more remarkable.
And while this is certainly Turn 10s prerogative and Dan Greenawalt's vision, it doesn't really explain why they didn't object to the initial Prima Games proposal in the first place.  Turn 10 could have told Prima Games from the start, "No, just make the guide like the last one, like the FM2 guide that's all we want."  Prima Games would have complied.  But Turn 10 didn't do that.  They accepted what Prima Games said they were going to do and gave it their blessing to move forward. 
Prima Games explained that this kind of reaction was simply unprecedented especially with such a great end product.  The most they could tell me is that the decision to re-write the guide had become highly political and reached beyond Turn 10 and into Microsoft corporate offices.  Not wanting to risk their number 1 account Prima Games understandably promised to re-write the guide without protest.
As you can see today, Forza 7 is largely unchanged aside from more cars and tracks and better graphics and is still in a status quo mode 4 versions later.  To support all that I'm saying take a look at the pictures of the FM3 guide below and you will see my name and gamer tag printed on it, much to the anger and dismay of Turn 10. lol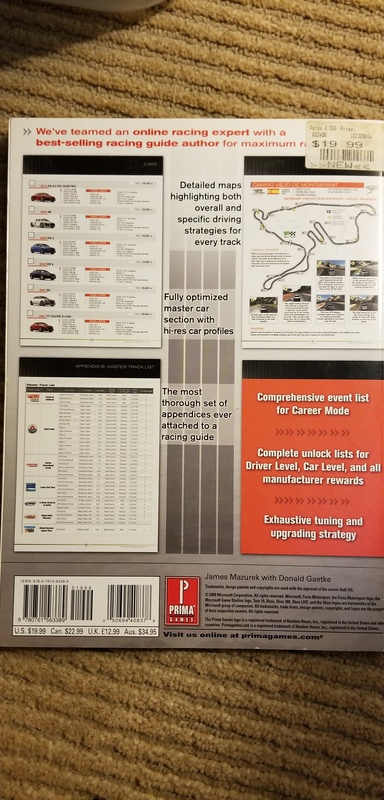 _________________

"Piggy" aka "The Pig"

GTDon2

Gold Member








Posts

: 11963



Local

: Minnesota, USA



Registration date

: 2007-04-04


Forza Profile


XBL Gamertag

:

GTDon2


IFCA Car #: 4


Infractions

:

0 out of 3,000,000,000




---
Permissions in this forum:
You
cannot
reply to topics in this forum